Apple Dumpling The Clown
In a costume by Everyday's A Holiday at NASCAR Event
Bubble The Clown
Looking beautiful in a costume by Everyday's A Holiday
Steve Kissell
Wearing sailor pants by Everyday's A Holiday
Sha Sha The Clown
She is at a US Capitol Event in a costume by Everyday's A Holiday
Vivian MacArthur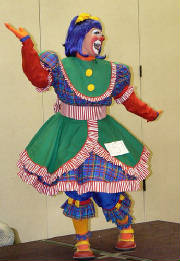 Won 2nd Place at COAI in this Everyday's A Holiday costume
Lareen "Sweet Cheeks" Meyers -wins in a Everyday's A Holiday costume at Clownfest, and Top Ten COAI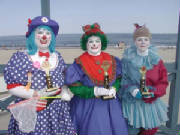 Barabara " Sweet Thang" Cox wins Top Ten in a Everyday's A Holiday costume at COAI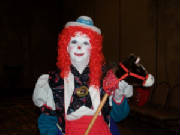 Sweet Cheeks The Clown
Won Top Ten at COAI in this costume by Everyday's A Holiday
Sweet Cheeks working in a costume by Everyday's A Holiday
The Hegeman String Band 2010
Everyday's A Holiday had the honor of making costumes for the Mummers Band 2010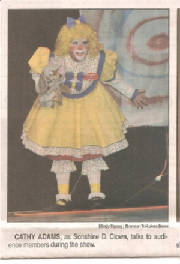 Cathy "Sunshine" Adams looking beautiful in her costume from Everyday's A Holiday the press loved her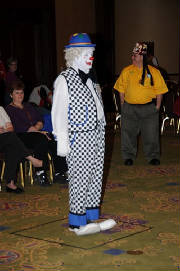 Another winner in a costume from Everyday's A Holiday - Mid Atlantic Shriner 2011
Boo Boo The Clown wearing a Camp Shirt by Everyday's A Holiday
Another costume wins 2nd place at COAI in Clarksville, Indiana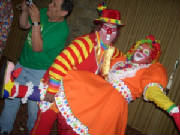 So many wonderful clown in costumes by Everyday's A Holiday
My first Square Dancing Costume for a client in New York going to a Square Dance Convention of 4,000 attending - Thanks, Carol.....I felt like the belle of the ball!
I did a lot research on this, for Square Dance Costume are so different, the skirt is fuller, the bodice is lower, and sleeve are opening for the dancer to stay cool. The costume don't have pocket like we have in clowning. They don't come with bloomer like we have in clowning. The are shorter and pettipants. They are trimmed with ruffles on outside of fabric, and trimmed with lace. I enjoy the learning of the Square Dance world, now I think I will start sewing a few, they are less detail and with 4,000 attending convention, compare to clown convention of 150 only attending, the income level is far more.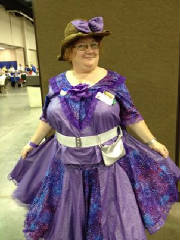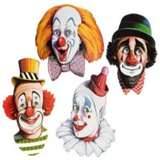 CaroL "Holiday" Coleman wide range of designs, I have set-up this web site in catalog format with most all things needed for clowning. The costume area is catalog under: Dresses, Pants & Bloomer, Jumpers, Jumpsuits, Vest, Collars & Cuffs, Skirts, Aprons, Tops, Hats, and Assessory Items. I sew all costumes myself, you are getting a hand made USA product, single women owned business. I have been sewing for over 50 years. I have been a Professional FULL TIME working clown for 35 years. I know and understand a working clown, I have placed TOP TEN many times for years. Many of clients have placed Top Ten in costumes I designed for them. I have judged makeup and costumes in the clowning world for over 15 years, for COAI, WCA, SECA, MACA, Clownfest, and Shriners. You want to purchase from someone that knows the art of clowning to aid your look and clown. I will make you Star. Everyday's A Holiday Clown Costumes are reasonable and seasonable, let me make you a Star.
MY 12 RULES FOR MAKING A PROFESSIONAL CLOWN GARMENT
1) Selection the right wardrobe for your character: Whiteface, Comdey Whiteface, Auguste, Tramp, Bag Lady, Character Clown, Lite Auguste
2) Select fabric that are durable (I see many sew costumes in cheap satins, to light weight fabric for pants, and to big of a print.)
3) Trims: Ric Rack - Not a product for a professional clown costume design, Satin- pre-make yardage of ruffle - not a product for a professional clown costume design,Eyelid - if used purchase the best, if not it will fall apart via wear.
4) Sleeve design- I see many very flat not full puff of sleeves at should line, this will not give the look of stage appearance for your character if Comdey Whiteface or Auguste girl clown. It will also be warm to wear and not good air flow.
5) Ruffles - I see many ruffles done on clown costumes that are not full and eased in, they appear flat with no flow to the circle skirt line. I used only folded fabric, serged edge, gather, set along hem line with a nice flow, this give edge movement for the ruffle stand out and is a total ruffle. It is the knowledge of a good seamstress to do this right. I used over 6 lenghts of fabric to make one ruffle for a bottom trim of dresses. Do cheap, it looks cheap, so take the extra steps and cost for a professional look.
6) Lack of interlined, some call this Lite Line Costume/Wardrobe - it will give your a lower price, but the garment will not have body and will hang correctly. In bloomers and pants they will be see thru.
7) Collars - these are easy to make, they are worn to total look of your character, they are also worn to aid the costume wear and should be addressed often for new bow, button, and make-up stain. Always address more than one collar for a costume, for these show wear first.
8) OVERDONE LOOK - I have seen many a clown have far to much from hat, costume design, wigs and etc. Tone it down, look at yourself in full make and wardrobe and see what you look like close up Maybe the hat is overwhelming, maybe your make-up design need refinement, maybe your costumes needs refinement, bows to big, and harsh style of wardrobe. Be your best and be a Professional not a Overdone Clown. KID FRIENDLY PLEASE You will see the different, the kids will come running to hug you. Harsh design will not be kids friendly. A hat that has brim that is to big with make your wig, pull down to much, covering your make-up design, this has been a problem with many hats being sold in the last 7 years in the vendor business.
9) GOODWILL Costumes - You may fine some good fines, but if you just add a ruffle or bow, it will still be a GoodWill Clown Look, take the garment apart and uses the fabric, and make yourself something wonderful, than you will have a Wardrobe. Do note the fabric, poly fabric will not work, even if they are a great print. They will be too hot to work in. If fabric is not a blend of cotton or cotton it will be hard to wear cause skin problems working on a hot day. Wool and cotton are breathable.
10) Smelly Clown - Your costume represents your business, I have worked with the smelly clown and it is awful. Wash or dry clean your costume, wash your wig, and polish the shoes. Your are a Professional so be Professional your client deserve this and so does the Art of Clown
11) Trademark prints and applique, in the USA avoid anything with a trademark print or design of, Disney has more lawyers than the Pope. If your earning a income you should follow the copyright regulation
12) In your designing please avoid being the Rainbow bright clown, this will have you viewed as a first of May. If you need help call a professional designer they will aid you.
13) The unwritten rule, never copy another clown, I have had many copy my designs, this is an honor, but they will never be HOLIDAY THE CLOWN, and if they do copy they will never grow into the clown they could have been
14) The month of January - February are my sew times. .All other times are longer turn around came be 3-4 months due to a heavy booking time with Convention in March-May, and clowning from May-September, and Storytelling from October-December. I sew and design all, I am not s farm out business or hirer staff to piece work. I am a professional seamstress sewing professional since age 15 for a fabric store and owning a small business of alternation. If you want FAST TURN AROUND seek others, I deciated my time to each item as if it was my own wardrobe to give you a MASTER PIECE. I have the Right to Cancel all order that do become a problem client as all seamstress all do. If you want now purchase READY NOW items.