AS OF JANUARY 2020 EVERYDAY'S A HOLIDAY WILL ONLY CARRY PRODUCT THAT Everyday's A Holiday MAKES AND DESIGNS. Everyday's A Holiday does not farm out for design and sewing, to Church Ladies or Other Counties for sewing. All my wardrobe items are made my the owner Carol "Holiday" Coleman a seamstress with over 6 decades of sewing. ALL wigs, clown socks, and gloves are on CLOSE OUT, all are mark down. Today one can google search these items and see 68 other places to purchase them. Convention of clowning have gone down on attendance yet vendors are still attending and generally at a LOST for high cost or space, travel, hotel. I am not a HOBBY BUSINESS, I am a business that must have a profit. Clown convention vending is a thing of the past, unless the convention start addressing the needs of vendors. Many vendors have SOLD their businesses or closed down. Vendors are a main reason many attend a convention. Enjoy the MARK downs they will be posted until gone.
I have fabric coming in with Holiday The Clown on it. I can have fabric with your clown face on it. I will have it produce, and than you can hold on e of the following items: tie, bib, hat, extra large bow, headband bow, and more...All you have do is send me and image of your clown photo. Once the image is accepted, I will have the fabric product in one yard, 42 inches wide. The remaining fabric we be mail to you with purchase items.
We are entering the SPRING SEASON, time to freshing up your wardrobe with a new apron, hat, bib, bloomer, or bows. It is also time to order your CHRISTMAS WARDROBE items. We are less than nine months away as if April 2019.
Most convention today have vendors with very little, yet they have high cost to travel, ship, and setup. They raise their prices to cover these cost. Shopping online is easy, and is ship out daily. A vendor at a convention has a two suitcase display, for shipping and holding at hotels is high. Gone are the days of convention being the place to stock your supplies, order on line.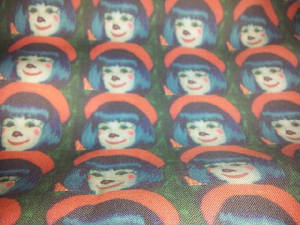 Lanyards with Sparkle - $10.00

Sick of going to a convention and wear those ugly ID Lanyards. This one is nice and doesn't hurt your neck. Clip the plastic case from convention on this, and hotel key. Holiday always looks for the glitter and shine.......It's all about the SPARKLE...... See Online store under Wig and Hair Items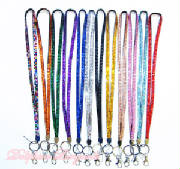 Rosey the Flower - $5.00 (see Holiday's favorites to order)

Fancy Kazoo - $5.00 (Holiday's favorite things to order)



Ties: $18.00 RR Print Ties, Balloon Dog Print Ties and many circus prints. Everyday's A Holiday had these custom items FIRST with original design of making custom print ties and bow ties in clowning/circus print. I have the largest and BEST selection of Fabric and the Best Prices. Everyday's A Holiday is the home of the original custom ties for you in Circus and Clowning prints. I am always the first and they all follow.....you will be checking back often for more of my original ideas and new items.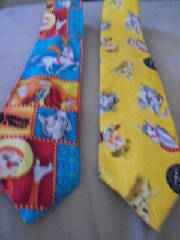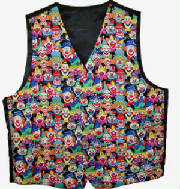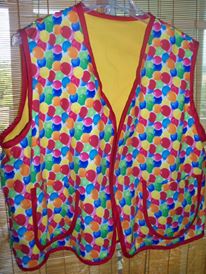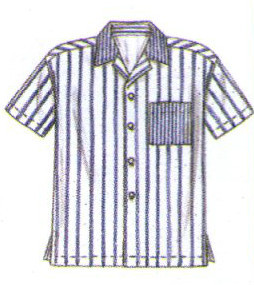 Camp Shirt in a clown print:





BALLOON PRINT FABRIC SHIRTS. BALLOON VESTS. BALLOON COLLARS/BIBS. BALLOON TIES. APRONS. HATS
.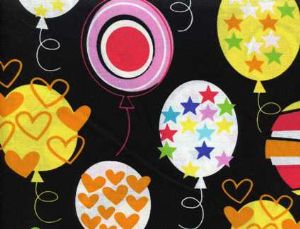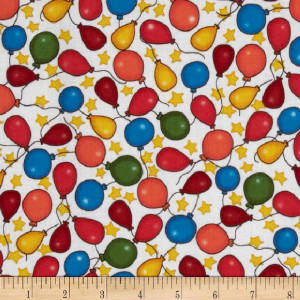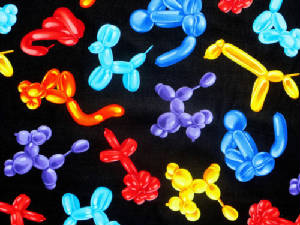 New Swan print is also available in white in September
Balloon Print Outfit "Ansty The Clown" loves it for her resturant clowning

Antsy The Clown is modeling a Mix & Match Costume by Everyday's A Holiday. Pants, Vest, T-Top, you can add on to this look, two piece outfit with T-shirt top, pants pull down with large side pockets, vest gives you a GREAT look in chest and waist area. Great for Full Figure girls, you will not have the crotch pull look that one piece jumpsuit give all. A great working clown outfit. NOW TAKING ORDERS or you can Mix and Match from listed items at this On-line store for immediate delivery - Pricing: pants, vest, T-top, collar = $295.00 starting price (pending on fabric choice) s/h - Flat Rate Priortry shipping - $16.00 GREAT WORKING OUTFIT (sleeve insert can be added for full arm coverage) Note fabric of trigger or heavy weigh for vest or pants will cost more9
Orders take 8-10 weeks, order in a timely fashion, for your handmade, and speciality design costumes, depending on fabric selection and details of design
GARMENT BAGS FOR YOUR COSTUME:

Nice nylon bag with pocket for storage of other items, comes in some wonderful colors: Red, Orange, Green, Royal Blue, Light Purple, and Goldenrod. Price: $17.00
HEY SANTA YOU NEED THESE - Do not let you pants fall down like Santa at the Pagaent of Peace one year and in front of President Bush The President and 7,000 at attending witness this on stage, even the Genie- Barbara Eden could not help Santa. The President told Santa he was getting him a pair of suspender. True story, Holiday The Clown was preshow preformer