Our Policies at Everyday's A Holiday
1) Wigs,Makeup, Noses, Face Paints, Sponges, Brushes, Socks, are not retunable due to Health Regulation
2) All others items can be return within a 14 days period of shipping date. A store credit will be issue. less the cost of shipping. return is your expense. The item must be in condition as it was shipped any sign of wear willl void the return and store credit
3) Alternation and Repair will be done up to 60 days from date of delivery/purchase
4) Shipping is all done USPS Priortry mail with $50.00 insurance. if you wish more insurance please inform me, and I will invoice you $300.00 - is $5.00 $500.00 = $6.00, $1000 - $12.00
5) I will used the shipping address that is giving. If you wish Signature Recieving Done for shopping: message me and I will invoiice you.
6) Please double check all your shipping information and order are correct, we are not responsible for any wrong information giving.
7) Correct shipping address ia your repsonsiblitily to give me, I will place Tracking Number up on PayPal or email mail you the tracking number. You can follow your package on USPS.gov site.
8) Undeliverable item will be sent back to me. the USPS states this takes 13-17 days, again double check your mailing information.
9) Lost items, you can go to USPS.gov and file a claim, for the insured amount, follow the guideline of the USPS.gov site
10) Please follow all washing instruction, turn wardrobe inside out, wash in cold water. line dry, light press
11) Custom custume orders take 8-10 weeks, remember that orders befor;e yours are always done first. Sometime fabric ordering and pattern design can take up to 14 weeks, seasonal items will take longer for the fabric may not be available yet.
12) Any change of design or costume once I have starting ordering items for it, will cost an additionnal fee of $35.00
13) I have the right to refuse to stop work on any order. if the order has become a problem and not acceptable to work with..
14) Measurement should be done as size chart page states. Hats should be measure with WIG on. and given added room for placed on head.
15) Custom works will be advise of the date and time frame of start, than add the weeks to make costum orders.
16) Store credits are issue for all returns, less shipping cost and must be in condition sent, if not a 50% will be taken off of the totally cost of item.
17) I only sell to USA. no order accepted outside of United States, due to high shipping cost, and problems with credit cards I no longer accepted oversea orders.
18) I will not copy another costume company design. I had a request via a picture that was on another costume company FB page. Reveiw the photo, and firmly told the client I would not do it. I told him to go directly to this costume company. He became rude and message me many times with nasty messages. I will not uses another person design, or work. It told him I could design something like it but it would be my design. He than because totally rude, telling me he was hiring me to make his design. NOT (this was the other companies design). I will state that clown design are basic in USA, but I design my style and many have copies it from the split skirt dress to the peek a boo sleeve, and my collar design. It is wrong to steal a design. but what is really wrong is to be this rude, like this client. I block him and delete him off my facebook account. Please remember that the costume designer all known each other, and share their stories. Some are not designer for the only retail, but the owner before purchase a few designer for a clown costume designer. If your rude like this guy, you may have to go outside the USA for a costume or sew your our. We have the right to refuse. Personally, I don't think he should be clowning for he was crazy and not sound to be dealing with children. I dealt with him few years ago, he was already on my list of rude client, so this was the final straw on him, he just not worth the time and should not be a clown Remember your seamstress/designer has the right to refuse, their are only small number that design as vendors and it will be known..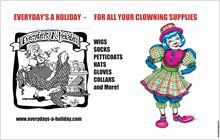 La